---

UFC 220: Miocic vs. Ngannou promises to produce a true star at heavyweight who isn't named Brock Lesnar. Whether it's the blue-collar firefighter from Valley View, Ohio, or the terrifying destroyer who looks and sounds like a Bond villain, the UFC will have another desperately needed fighter with some real marketability.
The heavyweight division has long been hallowed in combat sports. Although heavyweights are usually less technical than their lighter counterparts, whoever has the belt at the heaviest weight class has long been considered the baddest man in the world, a designation that draws the eyes of the common man. People like to see other people knocked unconscious, and no other weight class brings quite the same promise of guaranteed violence.
Unfortunately for the UFC, building a true star above 205 pounds has not been easy. In the entire history of the promotion, no heavyweight champion has been able to defend the belt more than twice, a fact that hammers home how truly incredible Fedor Emilianenko's run in Pride FC was.
UFC 220: Miocic vs. Ngannou promises to produce a true star at heavyweight who isn't named Brock Lesnar. Whether it's the blue-collar firefighter from Valley View, Ohio, or the terrifying destroyer who looks and sounds like a Bond villain, the UFC will have another desperately needed fighter with some real marketability.
Stipe Miocic, a Cleveland Golden Gloves champion and a NCAA Division I wrestler, comes into this fight with a 19-2 record. He likes to either stay just out of the pocket and put volume on his opponent or work his way all the way in, threatening takedowns and grinding opponents with his clinch. Often times when he attempts a takedown he doesn't care so much if he actually gets it, but instead just wants to make you shuck him off, hit you on the break and make you think next time.
Fighting behind a solid jab, feinting often and firing off throwaway arm punches, he forces fighters to constantly return fire and work out of bad spots. He can pressure, often leaping in with multiple lead hooks as fighters retreat against the cage. Miocic lands at an extremely quick pace for a heavyweight, defends more than 61 percent of incoming strikes and lands over half of all of his own. 
What makes this even more dangerous is his ability to sneak in powerful straight right hands and left hooks that, despite his not being a thunderous puncher, can still put people to sleep. As Stipe has noted often as of late, at this weight everyone can land the knockout.
But, still, there is something terrifying in the way Ngannou transfers kinetic energy into his oversized fists. There is even something terrifying in the way Ngannou speaks. He speaks like he knows he is invincible, and whether or not it is true, whether or not it is an act, it is unsettling. The scariest thing about the challenger, however, is that we just don't know how good he is.
We really don't know what he is going to do. He clearly improved by substantial margins in his first few fights, and since then he has simply knocked everyone out before he could even show what he has added to his toolbox.
Many analysts, myself included, posited that he would be outmatched in the clinch against a seasoned Alistair Overeem, but when "The Reem," engaged in the clinch he was immediately turned against the cage. How good has his wrestling become, really?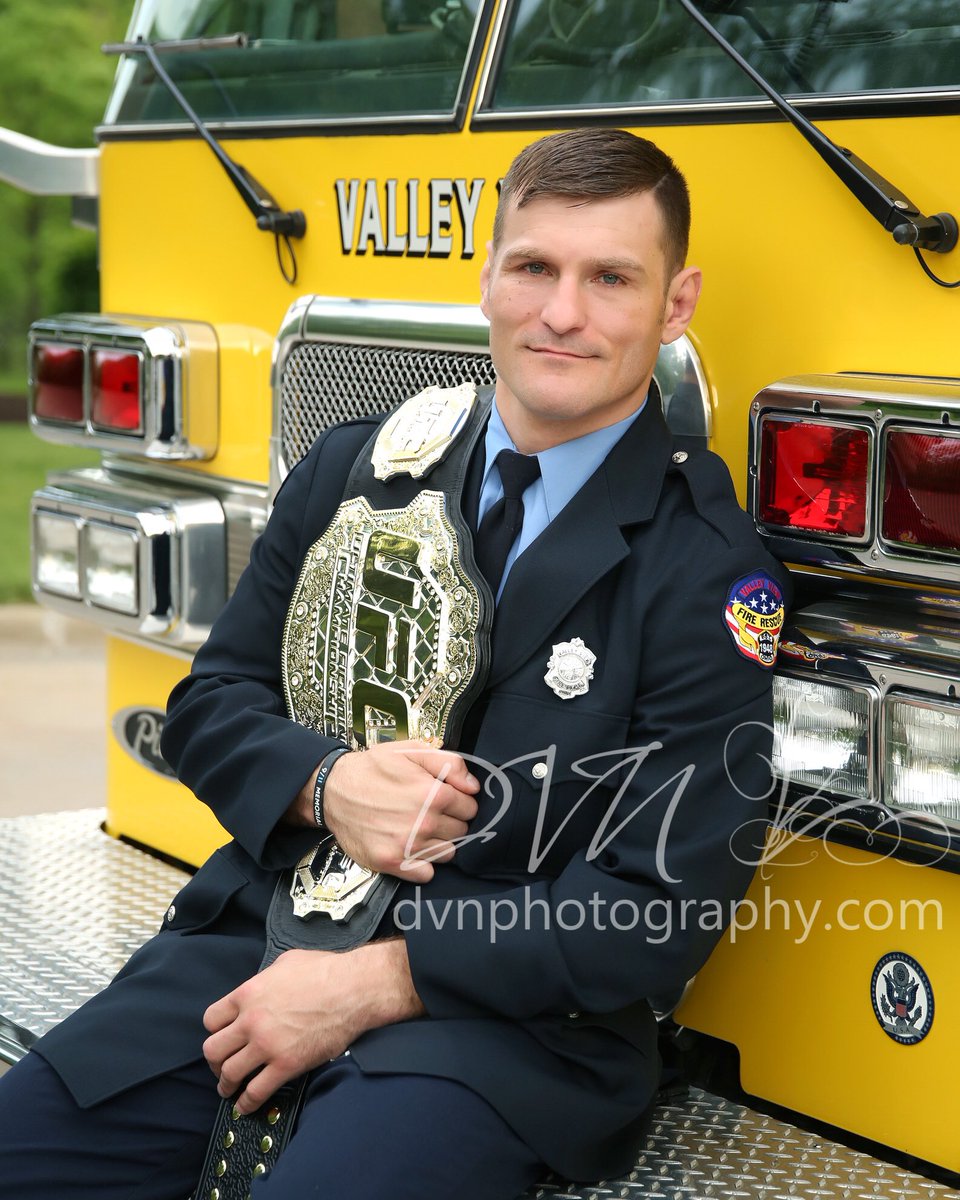 Here's what we know about the newcomer. He likes to control the center of the octagon, using minimalist footwork and proper ring cutting to control his position and hold strong angles. While his jab is a bit of a question mark, he has a stunning left hook and a tricky lead uppercut that make taking the outside angle slightly more dangerous against him than it would be on most other fighters. His planted stance and short steps means that he is always ready to unleash hammers on his opponent, but he has shown immaculate patience and timing, which has protected him against counters up until now. When he does attack, he knows how to put several punches together and find holes in your defense, whereas so many other fighters with power have been content to attempt to land a single haymaker.
We know grappling was an early hole in his game, but after his submission of Anthony Hamilton in 2016, the real question is, how good is his grappling in 2018? Is it possible that he could do the same to the champion? Is Miocic going to be able to ragdoll him around the cage? Will he at least be able to use it to force Ngannou to work, constantly playing catch up, the way both Miocic and Cain Velasquez did against Junior Dos Santos?
If Ngannou were to put the champion against the cage when clinched and land some knees and a strike on the break, or sprawl on a takedown attempt and end up on top, the repercussions would be huge. If Ngannou were somehow able to take the Cleveland wrestler down, the mental blow alone could be crippling. Dissuading Miocic from using his wrestling would be a massive victory for the Cameroon native.
Let me be clear here: A volume fighter who works without being reckless and confuses his opponent with feints generally defeats a low volume counter puncher. The onus will be on Ngannou to slow the pace of the fight.
Both fighters have thrown low kicks, but Miocic would more likely to do it here. Wearing down the legs and body with kicks will pay dividends later, but he should be wary of being taken down or knocked down off a kick himself. The man with lightning bolts in his hair is not somebody you want on top of you throwing heat, regardless of your wrestling experience.
As long as Ngannou is in the center of the Octagon, using more conservative footwork to hold position with less effort and capitalizing on every opening, his chances are good even if he's not keeping pace with the traditionally busier fighter. He knows he only needs to land the one shot when the American is out of position, and he needs to be willing to stay right in the fire to get that opportunity.
If Miocic can get Ngannou retreating against the cage, he's likely going to start landing, and the bigger man will find it difficult to plant and return with anything meaningful. As the fight goes on and his impressive musculature fills with blood, it'll only become harder to make hay. 
At the end of the day, it's hard to bet against the champion. On paper, the fight clearly favors him. The sheer unknowns of the terrifying challenger are an issue here, though. Ngannou is not a known commodity. He knows what Miocic wants to do, but he has a chance to throw a curveball that nobody expects. If he had the crazy idea he wanted to go for a takedown, we have literally no idea how he would attempt it. If he decides to try to strike in the clinch, how will he do it? How is he going to react to the first fighter he has fought with a smart, workman-like jab?
There really hasn't been a successful fighter whose toolbox we have seen so little of since Ronda Rousey, and that is also partly why this fight is so exciting. Regardless of the outcome, he has been able to create a buzz that has largely been absent from the sport for quite some time, and that is a success in and of itself.

Images removed upon request.
The following two tabs change content below.
Eric Andersen
A lifelong martial artist with experience in Tae Kwon Do, Boxing, Brazilian Jiu-Jitsu, and Dutch Muay Thai, Eric Andersen currently resides in Ojai, California where he beats up hipsters for money. If you know of a hipster who will just waste his money on a four hundred dollar tree stump end table, please contact Eric on twitter @eandersen117.
Latest posts by Eric Andersen (see all)