UFC 218: Holloway vs. Aldo 2
December 2, 2017 | Detroit City, Michigan
PPV Main Card: 10PM/7PM ET|PT
Fox Sports 1 Prelims: 8PM/5PM ET|PT
Fight Pass Early Prelims: 6:15PM/3:15PM ET|PT
MMA means a great many things to many different people. Blood. Violence. Glory. Heart. Tactical brilliance. Strategic wizardry. Unflinching will. All will be on full display at UFC 218: Aldo vs. Holloway 2. Will the technical striking of "The Karate Hottie" be able to negate the aggression of Tecia Torres? Will the unbridled violence of Justin Gaethje overwhelm former champion Eddie Alvarez? Can Olympic gold medalist Henry Cejudo put himself back in contention, or will rising star Sergio Pettis finally break through and become a star? Can Francis Ngannou continue his ascension from poverty on the streets of Cameroon to earning a title shot only four years removed from knowing nothing of the sport? And finally, can one of the most underrated champions of the sport regain his mantle after losing in dramatic fashion?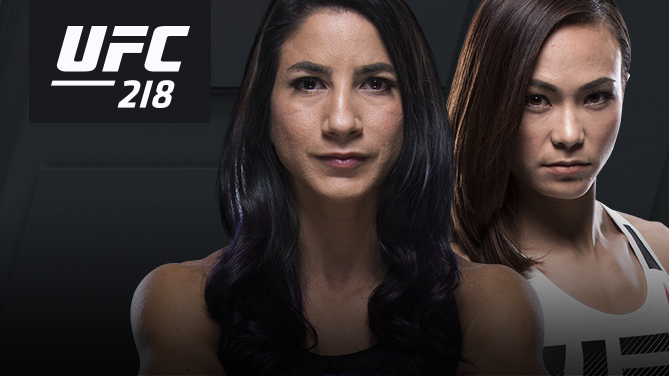 Strawweight Bout — 3 Rounds
#5 Tecia Torres (9-1) vs. #6 Michelle Waterson  (15-5)
Tecia Torres' only loss in 10 professional fights was in her rematch with current champion Rose Namajunas, and she has fought only elite competition over her career. She likes to circle on the outside, hold that range with Tae Kwon Do kicks, bull her way into the pocket and land hard power punches that set up her clinch and takedowns. Once on top, her wrestling is a threat and she unloads with heavy ground and pound.
Michelle Waterson is an outfighter known for her kicks. She can counter, but her boxing and footwork is far from bulletproof. Her best attribute may be her jiu-jitsu. Ten of her 15 wins came by submission.
This is Torres' fight to lose, but she can't give "The Karate Hottie" an inch on the outside. She needs to close the distance and stick to the pocket where her boxing shines. She can do real damage from the clinch as well but has to be careful she's not on the receiving end of one of Waterson's beautiful hip throws. Similarly, she would do well to commit to some takedowns and top work, which will sell her feints later in the fight. But if she isn't wary of Waterson's submissions, she could easily find herself tapping out.
Winner: Torres by decision.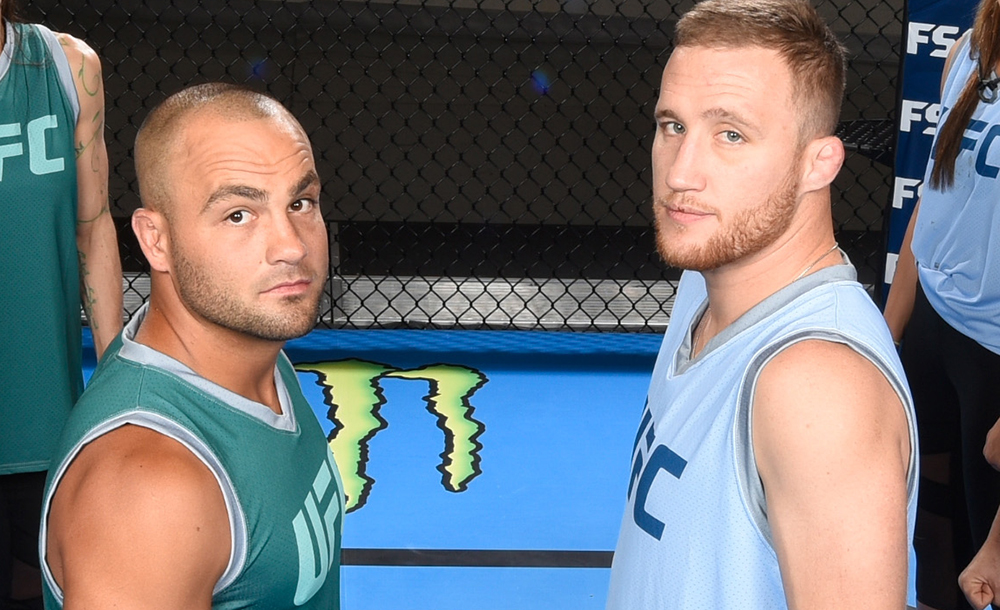 Lightweight Bout — 3 Rounds
Eddie Alvarez (28-5-1) vs. Justin Gaethje (18-0)
The shoo-in for "Fight of the Night," these two fighters are in for an all out war. Alvarez is a dynamic infighter who likes to bob and weave in the pocket, counter with the right hand and, when he gets the chance, put strings of combinations together. He can pressure when he wants to, but he's really happiest in the center of the cage. He can go full blast all fight and still have energy in the third round.
Gaethje, on the other hand, is always pressing forward. His style is "dumb" in the sense that his game plan isn't built on adapting to his opponent. He just comes for you, plain and simple. Slam the legs, punish the body, murder the head. He just forces you to work, and what makes this "dumb" style dangerous is that you can't dissuade him. You can't force him to try alter his game in a way that you can take advantage of. For better or for worse he comes at you like something out of a horror flick and all he wants is your brains. Either you finish him while he's doing it or you don't, and so far, nobody has been able to finish him.
Alvarez, though, can be deadly accurate with his combinations, and Gaethje's defensive style involves pinning his hands to his head and hoping to catch shots on his forearms before throwing back. When he has his man hurt, Alvarez swarms on him like a locust army, and Gaethje seems to get hurt in every fight. If it goes into the later frames, Alvarez should have the advantage.
This is the type of fight that could easily go in either direction, but in the end, Gaethje has something Alvarez doesn't, which is that he can't be mentally broken. He'll die on the mat before he stops trying to decapitate Alvarez. If he finds an avenue, like knees from the clinch, he will exploit it ruthlessly.
Winner: Gaethje by knockout, Round 1.
Flyweight Bout — 3 Rounds
#2 Henry Cejudo (13-2) vs. #5 Sergio Pettis (18-2)
Pettis is riding a four-fight win streak and is looking to make a statement here. A dominant win over Cejudo may propel him into a title shot, but making that happen is easier said than done. Pettis, unlike his brother, is a fundamentally sound striker with slick head movement who excels at floating in and out of the pocket. Using throwaway punches to force the return, he is able to counter the counters and therefore win long exchanges. By forcing his opponent to either return and engage in his game or play defense and get beaten on points, he can create a no-win scenario.
Cejudo is an Olympic gold medalist in freestyle wrestling. Recently, he's made enormous improvements in his boxing. His only losses have been to Demetrious Johnson and a recent controversial split decision loss to Joseph Benavidez. Cejudo has power in all his strikes and likes to work in the pocket. Despite his wrestling credentials, he has done most of his work in the UFC with his hands.
Cejudo will give Pettis just the type of fight he likes, and he'll have a two-inch height and five-inch reach disadvantage. If he's too far out, Pettis can tag him with straights and kicks, and when he gets inside it's likely to be a trap. The Olympian is a bit too reliant on his cross, and keeps his lead hand a bit low, and that does not bode well for him in this matchup. However, Cejudo should have more power here, and his striking has certainly improved in his last few fights. He has to work his way into the pocket and at least threaten with takedowns. He may be able to take Pettis down at will, especially if they both are trading in the pocket, and if he can get Pettis defending and dropping his hands he may be able to land power shots. Still, though, visions of a Pettis high kick keep floating through my head. 
Winner: Pettis by knockout, Round 3. 
Heavyweight Bout — 3 Rounds
#1 Alistair Overeem (43-15) vs. #4 Francis Ngannou (10-0)
Ngannou has won five straight in the UFC and has looked better with every appearance. A freakish physical specimen, his greatest attribute may be his patience, as he likes to wait for just the right moment to unleash with his otherworldly strength. Having been built up from the bottom over the last five years, he has surprisingly few holes and is very well-rounded for a newcomer to the sport.
Overeem, however, is no newcomer. A former K-1 Grand Prix champion, Overeem is dangerous at every phase of the game. Ngannou will have to be wary of sharp kicks, brutal counters, a dominating clinch game, horrific knees, underrated wrestling and murderous ground and pound. Overeem has had to develop his game as his chin has evaporated over the years, and while he used to be far more aggressive he has come into his own fighting on the outside.
Ngannou is likely to get hit by everything and the kitchen sink. Low line side kick will keep him at range and take the heat off his punches. A crafty jab will mark up his face. Powerful body kicks will wind him early and sap him of energy. When he thinks he's finally able to land, Overeem will slip underneath and take him down and punish him from the top. And then, later in the fight, when Overeem's victory is all but assured, Ngannou will clobber him with a hammer and put him to sleep.
Winner: Ngannou by knockout, Round 2.
Featherweight Title Bout — 5 Rounds
(C) Max Holloway (16-2) vs. #1 Jose Aldo (26-3)
Holloway is an exciting fighter who pushes the pace and switches stances often, attacking from an array of angles with a dizzying arsenal of weapons. His last fight against Aldo was truly a masterclass. Despite being hit hard and often by Aldo early in the fight, Holloway used a new and more square stance to negate Aldo's low kicks. Only one kick landed, was immediately countered, and that was enough to entirely shut down the Brazilian's most feared weapon. Aldo, having matured primarily into a counterpuncher late in his career, found himself spammed with feints. The longer the fight went, the deeper Aldo found himself sinking into the quicksand.
A master at slowing the pace of a fight, Aldo found himself just trying to keep up, finding himself further and further behind on the scorecards. He found himself trying to keep up with a motivated 25-year-old with dreams of gold. And soon, he found himself exhausted.
This time around Aldo would do better to commit to the long fight. Last time around he recklessly committed to attacks that were entirely unnecessary. He needs to force Holloway to lead, counter and only explode in bursts. Aldo is slick defensively and could draw Holloway in and make him miss, creating more opportunities if he doesn't get drawn into the back-and-forth. While at distance, he needs to attack the body and legs. Even if Holloway's stance makes the low kicks more dangerous, body shots will still be there. By alternating between body kicks and high kicks he can punish Holloway for trying to catch them. If he's afraid of taking those risks, Holloway will walk all over him. 
Still, it seems like a losing game. Holloway has only gotten better, and Aldo is only getting older. With the confidence of his last fight, with the game plan laid out so clearly, he'll have to make a mistake to lose.
Winner: Holloway by knockout, Round 3.
No images used belong to FootandFist.com and will be removed upon request.
The following two tabs change content below.
Eric Andersen
A lifelong martial artist with experience in Tae Kwon Do, Boxing, Brazilian Jiu-Jitsu, and Dutch Muay Thai, Eric Andersen currently resides in Ojai, California where he beats up hipsters for money. If you know of a hipster who will just waste his money on a four hundred dollar tree stump end table, please contact Eric on twitter @eandersen117.
Latest posts by Eric Andersen (see all)