UFC 216: Ferguson vs. Lee
October 7, 2017 | Las Vegas, Nevada
PPV Main Card: 10PM/7PM ET|PT
FX Prelims: 8PM/5PM ET|PT
Fight Pass Early Prelims: 6:30PM/3:30PM ET|PT
UFC 216: Ferguson vs. Lee seems to have generated a slew of mixed emotions from fight fans. Some argue that the proliferation of interim title fights devalues them, and that this is just one more example of the UFC trying to sell tickets by any means necessary. Others cry foul that flyweight champion Demetrious Johnson, perhaps the greatest fighter in the organization, is stuck under said interim title fight, relegated again to second fiddle.
Regardless how you view the politics, the UFC has certainly put together an evening of exciting fights.
Who will reign supreme? Who will prove their worth, and who who will fade into obscurity? Will the all time consecutive title defense record be broken, or will upsets shake the status quo and create new opportunities for young start-ups?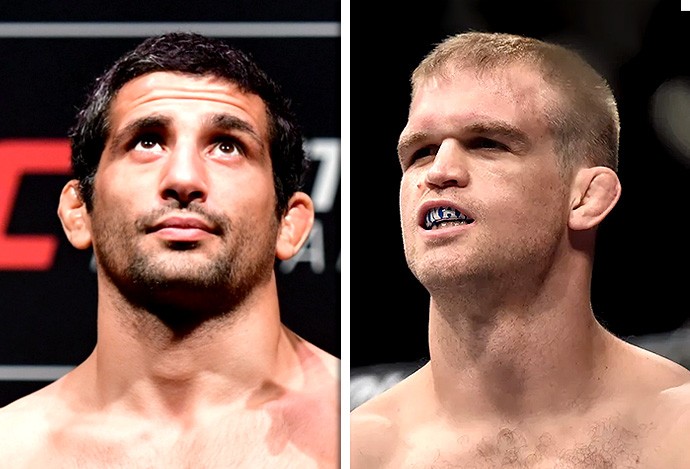 Lightweight Bout — 3 Rounds
#12 Beneil Dariush (14-3)  vs. #14 Evan Dunham (17-6)
Dunham is a well-rounded, workman-like fighter. Winner of four straight (his last loss to Edson Barboza), Dunham is a first degree black belt who trains under Robert Drysdale. He's dangerous on the top or bottom and thrives in scrambles. His boxing has improved dramatically in recent years, but he still tends to push his punches. He makes up for lack of technique in his form with good footwork, intelligent and well set up combos that often end in chopping kicks. He has a deep gas tank, a strong chin and plunges into the pocket fearlessly.
Winning eight of his last 10, Dariush is looking to rebound from his own knockout loss to Barboza. A Rafael Cordeiro fighter who likes to get after his man, he has a decent kicking game and likes to work up and down the body, spreading his damage fairly evenly. He has some snap in his strikes, especially his kicks, and slips shots well as he makes his entries. If he gets inside, he likes to use a Muay Thai clinch to land hard shots.
Prediction:  
This one should be a barn burner. These two are going come for each other. Dunham will look to stifle Dariush's kicks with hard, pressuring combos, and Dariush will look to dissuade that pressure with counters and punish Evan with his kicks. If he ends up too far inside, Dariush will grab the clinch and try to wear Dunham down. Dunham may be able to keep Dariush on the back foot for the whole match, or even drop him, but if he can't he'll be eating some hard shots to the body that will slow him down considerably.
Winner: Beneil Dariush by decision.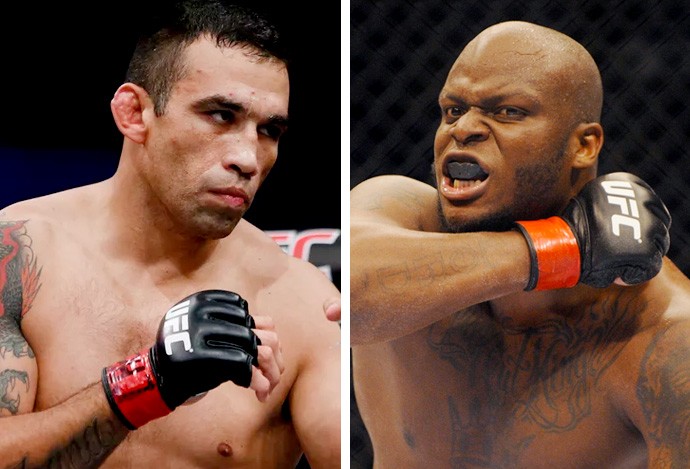 Heavyweight Bout — 3 Rounds
#2 Fabricio Werdum (21-7-1) vs. #6 Derrick Lewis (18-5, 1NC)
Derrick Lewis is an often overlooked and devastating counter puncher. Coming off a grueling war with Mark Hunt, he had previously put together six straight wins. Lewis is most comfortable fighting on the outside and explodes into everything he throws, including hard round kicks and a thunderous right hand. Owner of a legitimate dad bod, Lewis tends to gas in the later rounds, partly due to conditioning, partly due to his explosive style. By heavyweight standards his defense isn't terrible, at least until he gets tired, and he has a chin that eats flush shots like candy, which allows him to take your worst and send it right back.
Fabricio Werdum, originally feared for his ground game, has developed into a swarming pressure fighter who buries his opponents in a barrage of May Thai strikes. He tends to throw his shots with a minimum of commitment, making them hard to defend against and allowing him to keep pouring on the pressure throughout the fight. He digs a lovely front snap kick into the body to wind his man, and remains committed to the body for the whole fight. His cardio allowed him in Mexico to defeat Cain Velasquez, a man renowned for having the best gas tank in the division. He works behind a very nice jab, and although many of his strikes are thrown with poor technique he is very crafty in the ways he sets them up. He has been able to bring that same layered approach that made him a jiu-jitsu superstar into his stand up game. Having said that, however, he has always been inconsistent and hittable, his head often straight up and his hands down as he throws. And his age may soon start to slow down his pace.
Prediction: 
On paper at least, this fight seems one-sided. Werdum ought to be able to bury Lewis in strikes, and use his excellent kicks to work the body and legs, exacerbating Lewis' evident cardio issues. If he wants to stick Lewis against the cage and work knees and elbows and grind Lewis down, he should be able to do that as well. And if he gets him down, he should be able to do whatever he likes. All Werdum needs to do is not get caught rushing onto the bombs of the Black Beast–similar to his knock out loss to Stipe Miocic. Lewis needs to prevent the tie ups and create distance for Werdum to have to cover, allowing him his big counter. I just don't have faith that he has the cardio to keep up with Vai Cavalo, or the ability to keep it standing.
Winner: Fabricio Werdum by Submission, Round 3.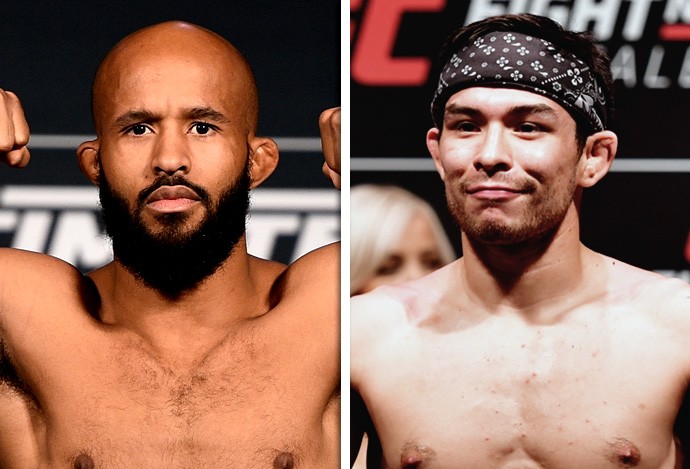 Flyweight Title Bout — 5 Rounds
(C) Demetrious Johnson (26-2-1) vs. #3 Ray Borg (11-2)
Demetrious Johnson, unquestionably the best pound for pound fighter on the entire roster, is looking to win his 11th consecutive title defense. If he defends successfully, he'll break Anderson Silva's record-setting 10 defenses. Johnson has an uncanny ability to improve from fight to fight, and in a way reminiscent of Jon Jones beat each opponent at their own strength. His defense is exceptional, his footwork never gratuitous, his head movement technically perfect. An out-fighter at his core, he flows in and out the pocket with near clairvoyance, landing perfectly timed takedowns at will and from there slicing through guards like butter in the summer. A man who outwrestled an Olympic gold medalist in Henry Cejudo, submitted a Brazilian jiu-jitsu world champion in Wlson Reis and twice outstruck the heavy-handed John Dodson, he simply seems to have no flaws. Using one skill to flow seamlessly into the next, he is an expert at tying his individual skill sets together into one perfect package.
Having said that, Ray Borg is not to be overlooked. While coming into the UFC touted as a submission specialist, Borg has made gigantic improvements in his stand up game. Having won two straight, his last two fights have been fantastic showings where he demonstrated real power in his hands, particularly in sharp hooks and uppercuts. He is extremely explosive, lightning fast, and his defensive acumen has improved tremendously along with his offense. When he gets his opponent to the ground, he has a heavy top game and sharp submissions.
Prediction:
This one is clear. Nobody expects Ray Borg to survive. This is akin to McGregor fighting Mayweather. If Borg even lands a single clean shot, it will validate his position on the roster. He certainly has the power, given the chance, to put Johnson out; but it's just not going to happen. He is likely to find himself in a clinic, and Johnson will find a place where he excels and Borg does not. Every round that goes by will be an advantage for "Mighty Mouse," and as Borg is worn down Johnson will only get stronger. While Borg has improved his boxing, his kicks and his clinch do not seem to be on par with Johnson's. Expect Johnson to go to the body, wear his man down and tee off when he sees blood in the water. Resistance is futile.
Winner: Demetrious Johnson by TKO, Round 3.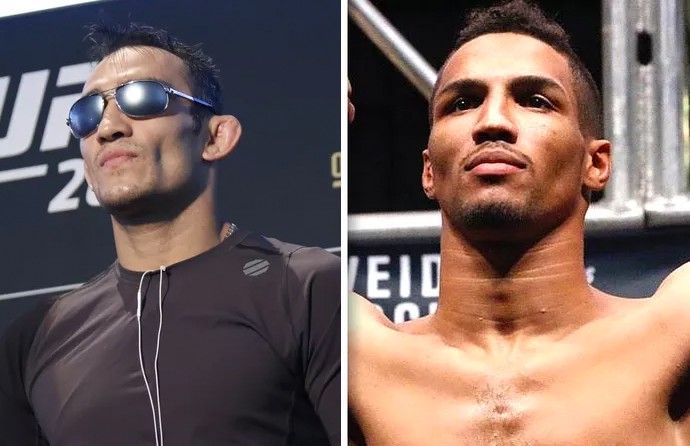 Lightweight Interim Title Bout — 5 Rounds
#2 Tony Ferguson (23-3) vs. #7 Kevin Lee (16-2)
Tony Ferguson is a relentless pressure fighter with a seemingly limitless gas tank and incredible 10th Planet jiu-jitsu who is known in particular for his D'arce chokes. His takedown defense, despite a background in wrestling, is by no means bulletproof, but his faith in his bottom game is so high he is willing to Imanari roll and risk ending up stuck underneath his opponent. Similar to Werdum, he owns a sharp front snap kick and likes to press forward throwing shots that are almost throwaway punches–if they land, great; if they do damage even better; but truly they are there to keep pressure on their opponent. It's death from a thousand cuts, and cut you Tony will, as his elbows are well timed and butcher his rivals standing.
Kevin Lee is a promising prospect who, at age 25, has already had a significant MMA career. Sporting a record of 16-2 with five straight wins, Lee is a dominant grappler with powerful, well-timed takedowns who is an expert at top control and taking the back. His strikes are explosive, coming down the pipe lightning fast and with power. He uses his 77-inch reach well, throwing straight shots that catch you just where he has maximum power.  However, where he really wants to be is on your back, with a body lock squeezing you into submission.
Prediction:
Kevin Lee has the power to knock Ferguson out, and Ferguson is certainly not a defensive mastermind, so an early knockout for Lee is definitely not out of the question. But again, with every round that passes, Ferguson will start to put his game plan together. And Lee's explosive style has a cost. Ferguson's volume will start to win him rounds, and Lee has never seen a fourth round in his life. Lee might be able to get Ferguson down, but the biggest question of this fight is whether he can work from there or if Ferguson will be able to threaten his own submissions or even just defend and stall, possibly while landing savage elbows from the bottom. Ultimately, Ferguson should at least survive, even if at brutal cost, and drag Lee into deeper waters where he wins the decision or gets the finish.
Winner: Tony Ferguson by decision.
The following two tabs change content below.
Eric Andersen
A lifelong martial artist with experience in Tae Kwon Do, Boxing, Brazilian Jiu-Jitsu, and Dutch Muay Thai, Eric Andersen currently resides in Ojai, California where he beats up hipsters for money. If you know of a hipster who will just waste his money on a four hundred dollar tree stump end table, please contact Eric on twitter @eandersen117.
Latest posts by Eric Andersen (see all)