All in all, 2017 was a hell of a year for mixed martial arts, with enough ups, downs, twists and turns to make even casual fans dizzy. Now that it's behind us, FootandFist.com Editor-in-Chief Jesse Scheckner and writer Eric Andersen look back on the year's best.
Best Female Fighter: Rose Namajunas
Jesse Scheckner: While not the winningest fighter in her division this year (that distinction belongs to Cynthia Calvillo and Tecia Torres), Namajunas' victory against Joanna Jedrzejczyk, the then-consensus best female fighter on the planet, carries such great weight that it overshadows any other female fighter's accomplishments in 2017. Her humble poise before and after their bout, which was preceded by a deluge of bullying attempts by the dethroned champion, spoke volumes and resonated with fans who enjoy seeing boastful champions be served humble pie, a la Holly Holm vs. Ronda Rousey.
Eric Andersen: "Thug" Rose rebounded from her 2016 loss to Karolina Kowalkiewicz by submitting longtime Invicta atomweight champion Michelle "The Karate Hottie" Waterson. She wasn't done there, however, and went on to upset the woman who seemed poised to break Ronda Rousey's title defense record by a shocking and decisive knockout. What more could you ask for?
Honorable mention: Cristiane Justino, Cynthia Calvillo, Tecia Torres, Nicco Montaño.
Best Male Fighter
Jesse's pick – Demetrious Johnson: At first glance, it may not seem that "Mighty Mouse's" 2017 was any more or less remarkable than his previous several years as the only men's featherweight champion in UFC history; however. But with his fifth-round submission of Ray Borg—which we'll discuss a little later—he broke Anderson Silva's longstanding record of 10 title defenses. While most fighters become either complacent or overly defensive after becoming champions, Johnson has only grown nastier, finishing both men who challenged this year for his title. JS
Eric's pick – Max Holloway: Holloway's dismantling of the featherweight champion, not once but twice, is simply too impressive to ignore. The young champion finished Aldo twice, and in an even more impressive fashion the second time. Having already nearly cleared out the division, it's hard to see him losing at featherweight any time soon.
Honorable mention: Robert Whittaker, Volkan Oezdemir, Rafael dos Anjos.
Fight of the Year: Eddie Alvarez vs. Justin Gaethje (UFC 218)
Jesse: After months of cordiality as coaches on the The Ultimate Fighter, former UFC and Bellator champion Eddie Alvarez and former World Series of Fighting champion Justin Gaethje entered the Octagon for what was sure to be a banger. What we got was a cavalcade of artful brutality that stands as the best fight of the year.
Eric: An impressive show of violence and heart, Alvarez and Gaethje put a stamp on 2017 when they went to war at UFC 218. After promising an orgy of violence, they did not disappoint. Neither fighter gave an inch, and both earned every cent of their bonuses.
Honorable mention: Justin Gaethje vs. Michael Johnson (The Ultimate Fighter 25 Finale), Yancy Medeiros vs. Alex Oliveira (UFC 218), T.J. Dillashaw vs. Cody Garbrandt (UFC 217).
Best Knockout: Francis Ngannou's killer uppercut on Alistair Overeem (UFC 218)
Jesse: If you crossed Johnny Cage's Mortal Kombat finishing move with Dan Henderson's UFC 100 follow-up shot, you might get something like Ngannou's nigh homicide of Overeem. It was a tense affair leading to the finish, but with a single Ernie Shavers style uppercut, Ngannou put the multi-promotion champ to sleep and punched his ticket to title contention in 2018.
Eric: There really shouldn't be a lot of questions about this one. Ngannou's decapitation of Alistair was the most iconic moment of the year. That was the sort of moment where you question if you had just seen a death on live TV. Alistair, a man who certainly had been removed from consciousness before, had never been destroyed quite like that.
Honorable mention: Matt Brown's elbow sends Diego Sanchez to the Styx (UFC Fight Night 120), Tywan Claxton's soaring knee sleeps Johnny Bonilla-Bowman (Bellator 186), Marlon Moraes' knee elicits the fencing response from Aljamain Sterling (UFC Fight Night 123), Ovince St. Preux head kicks Corey Anderson into December (UFC 217).
Best Submission: Demetrious Johnson's "Mighty Armbar" on Ray Borg (UFC 216)
Jesse: In a year where a guy actually pulled off a Walls of Jericho—or Lion Tamer, or Boston Crab—there were a lot of outstanding, unique finishes in 2017. But in October, the pound-for-pound best fighter in the world showed us something we'd never seen, launching his opponent into the air via suplex, snatching his arm and falling directly into a perfect armbar in a sequence that left even the most jaded MMA fans agape. While many fighters have preoccupied themselves with boisterous self-promotion, "Mighty Mouse" is in that cage two to three times a year painting the goddamned Sistine Chapel of MMA.
Eric: Even more so than Ngannou's Street Fighter caliber uppercut, this one is definitive. Demetrious Johnson's suplex to armbar might just be the craziest submission ever landed in UFC history. If I hadn't seen it for myself, I wouldn't believe it. Just jaw-dropping technique.
Honorable mention: Oleskiy Oliynyk submits Viktor Pešta with the first Ezekiel choke in UFC history (UFC Fight Night 103), Brett Johns lands the rare calf slicer on Joe Soto (The Ultimate Fighter 26 Finale), Brian Ortega submits Cub Swanson by guillotine choke like a goddamned boa constrictor (UFC Fight Night 123), Diego Brandao taps Murad Machaev by helicopter armbar (Fight Nights Global 58).
Best Event: UFC 217: Bisping vs. St-Pierre
Jesse: Never in the UFC's history has there been a night of more jaw-dropping, high-profile upsets. In succession, Rose Namajunas, T.J. Dillashaw and Georges St-Pierre each entered the cage and righteously trounced their odds-favored opponents. By the end of the night, three divisions—the volatile middleweight, top-heavy bantamweight and a seemingly locked-down women's strawweight—were upended. UFC 217 was an MMA decortication, and it was a magnificent thing to witness.
Eric: UFC 217 was simply phenomenal. Three title fights, three titles changing hands and all by finish. The moment Namajunas ended "Joanna Champion's" stellar run there was a distinct shift in the feel of the night. And then Garbrandt's left hook heard around the world, and then St-Pierre's unparalleled return… what more can you say? Incredible.
Honorable mention: UFC 218: Holloway vs. Aldo 2, UFC on FOX 26, UFC 210, UFC on FOX 23.
Best Non-UFC Promotion: Bellator MMA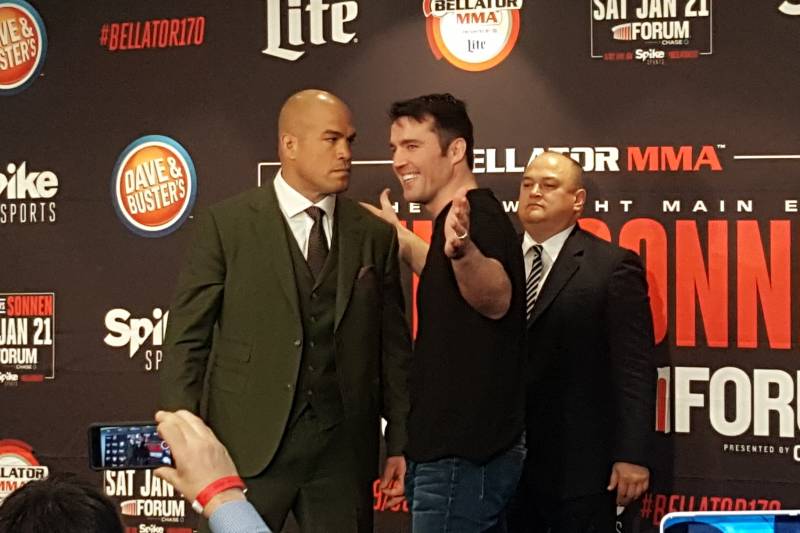 Jesse: Bellator MMA held 35 events last year. While some events were largely forgettable, Scott Coker and his merry band of tentpole drivers consistently built on their brand by signing several top free agents, arranging interesting matchups and drawing extra eyes utilizing inventive and tried-and-true methods. And with a heavyweight tournament on the horizon, 2018 looks to be another banner year for the Pepsi Cola of MMA.
Eric: Bellator MMA is still the strongest promotion outside of the UFC, and they are clearly building their roster by the day. I expect Bellator to only grow stronger over 2018 as they continue to offer a stronger and stronger alternative to the UFC. The recent changes to the Reebok deal have only amplified concerns over the lack of power fighters have in the organization.
Honorable mention: Rizin Fighting Federation, Legacy Fighting Alliance, Combate Americas, ONE Championship, Titan Fighting Championship.
Breakthrough Fighter of the Year
Jesse's pick – Volkan Oezdemir: You want to talk a banner 2017 for a fighter previously unknown to even the most die-hard of fans? Let's talk "No Time," a UFC newcomer in 2017 who slid past Ovince St. Preux via split decision to subsequently knock out Misha Circkunov and Jimi Manuwa in less time than it takes to listen to an early Descendents song. In less than two week, we'll see if he can become just the second man to defeat UFC champion Daniel Cormier when he challenges for the light heavyweight title at UFC 220.
Eric's pick – Rose Namajunas: "Thug" Rose always had potential, but after her losses to Carla Esparza and Karolina Kowalkeiwicz it was beginning to look like she may never defeat the elite of her division. Two finishes and one of the greatest upsets in UFC history later, Namajunas now sits atop the entire division going into the new year.
Honorable mention: Robert Whittaker, Darren Till, Brian Ortega, Francis Ngannou.
Comeback of the Year: Georges St-Pierre comes back after four years to submit Michael Bisping and win the UFC middleweight title (UFC 217)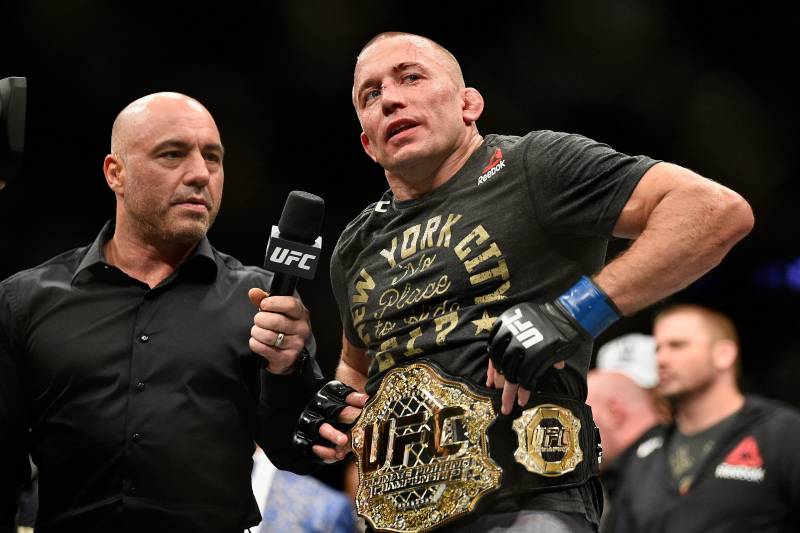 Jesse: Whether or not St-Pierre's return ends up being his last hurrah is secondary to how impressive he looked against Michael Bisping, a man who is by no means a world beater but who was certainly favored to best a lighter, injury-prone and assumedly rusty former champion. You couldn't help but become nostalgic watching GSP's old tricks still work in the cage. Few fighters get to walk away while they're still on top. St-Pierre got to do it twice.
Eric: Making his return after four years and moving up a weight division? Just sheer madness. Who would even attempt such a thing? And in his return, the guy known for winning by decision won with a finish. Incredible.
Honorable mention: Darren Elkins rages back to do "The Damage" to Mirsad Bektic (UFC 209), T.J. Dillashaw turns the tables on Cody Garbrandt (UFC 217), Derrick Lewis exhaustedly brains Travis Browne (UFC Fight Night 105).
Upset of the Year: Rose Namajunas knocks out Joanna Jedrzejczyk (UFC 217)
Jesse: The parallels between Rousey/Holm and Jedrzejczyk/Namajunas were stark. Jedrzejczyk, like Rousey, played the role of the dominant, intimidating and charismatic champion who'd embraced a tormenting, bullyish attitude toward her opponents after an unflattering coaching stint on The Ultimate Fighter against her arch-nemesis. Namajunas, like Holm, came in quiet and respectful, saying little but never backing down. Then, on fight night, the champion was caught surprised and served a violent, sobering slice of humble pie.
Eric: The betting line was at -600 Jedrzejczyk, +400 Namajunas. That was the largest differential since Jedrzejczyk fought Valerie Letourneau four fights previously. Somebody at Vegas cleaned up.
Honorable mention: Georges St-Pierre submits Michael Bisping (UFC 217), Josh Emmett folds Ricardo Lamas with a single left hook (UFC on FOX 26).
Best Coach
Jesse's pick – Mike Brown/Din Thomas (American Top Team): As fighters, Thomas and Brown faced (and beat) many of the best MMA had to offer at the time. As coaches, they have for the past four years coached many of the best in MMA alongside American Top Team Head Coach Conan Silveira. Thomas and Brown's keen analytical eyes, considerable pro experience and ability to convey their vast knowledge digestibly have led to fighters including Dustin Poirier, Rashid Magomedov, Jorge Masvidal, Colby Covington, Douglas Lima and Niko Price improving their games and champions like Tyron Woodley and Amanda Nunes continuing their dominant runs.
Eric's pick – Matt Hume (AMC Kickboxing & Pankration): While there have been many standout coaches this year, such as Jason Parillo and Mark Henry, Matt Hume cannot be overlooked. Sure, he really only has one active standout, but that one fighter is the best in the world and is doing things that just don't seem like they should be possible.
Honorable mention: Mark Henry/Ricardo Almeida (Iron Army), Rafael Cordeiro (Kings MMA), Firas Zahabi (Tristar Gym), Eric del Fierro (Alliance MMA).
Best Journalist
Jesse's pick—Karim Zidan (BloodyElbow.com): Investigative journalism takes, among many other things, a lot of time, resources, mulling over minute details, double-checking facts and figures, phone calls and field trips that lead to dead ends and a lot of outside pressure. There are few, if any, better in the MMA sphere than Zidan, who in 2017 took readers on several deep dives into Asian territories whose oppressions have reached MMA's international shores. Amid those long-form pieces, Zidan, an absolute writing machine, turned in other smaller but important reports whose information might have gone overlooked if not for one of MMA's finest watchdogs.
Eric's pick – Ariel Helwani (MMAFighting.com): Helwani continues to do as Helwani does, whispering while hunched over in a crowd of feral MMA fans like David Attenborough following the mating habits of Wildebeest. Just keep it coming, guy.
Honorable mention: Jonathan Snowden (BleacherReport.com), Scott Harris (BleacherReport.com), Brett Okamoto (ESPN.com), Dan Stupp (MMAJunkie.com).
Best Analyst: Jack Slack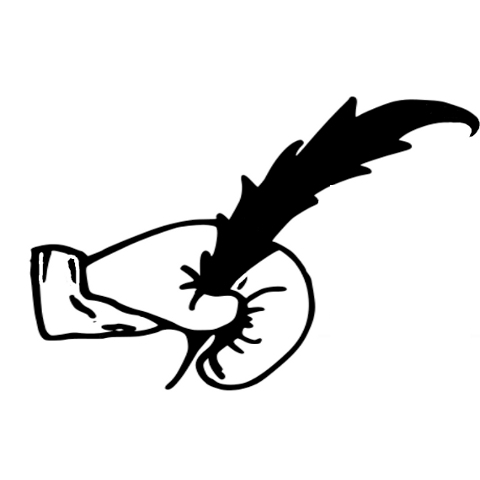 Jesse: Slack literally wrote the book on MMA analysis, and he's remained on the cusp of examining martial arts ever since. While lately he seems to have stretched himself thin, he still gets the nod, though others are indeed nipping at his heels.
Eric: The best now for over five years, Jack Slack has continued to write intelligent and humorous write ups, and his podcasts are always on point.
Honorable mention: BJJ Scout, Connor Ruebusch, Patrick Wyman, Dan Hardy, Pat Miletich.
Best Podcast: Heavy Hands
Jesse: Jack Slack may on paper (and screen) remain the best in the biz at MMA analysis, but aurally he takes a backseat to Patrick Wyman and Connor Ruebusch, who turn in fine work every week. Their effort and love of MMA is evident in all they do for their joint and respective work, and their analyses reliably enrich fight fans' experiences.   
Eric: Patrick Wyman and Connor Ruebusch continue to break down fights in a manner that is understandable to the layman but is actually intelligent analysis. If Wyman leaves for his own history podcast it will be a great loss.
Honorable mention: The MMA Hour, The Co-Main Event Podcast, Three Amigos, If I Did It, Promotional Malpractice Live Chat.
Biggest Story: Floyd Mayweather vs. Conor McGregor was an actual thing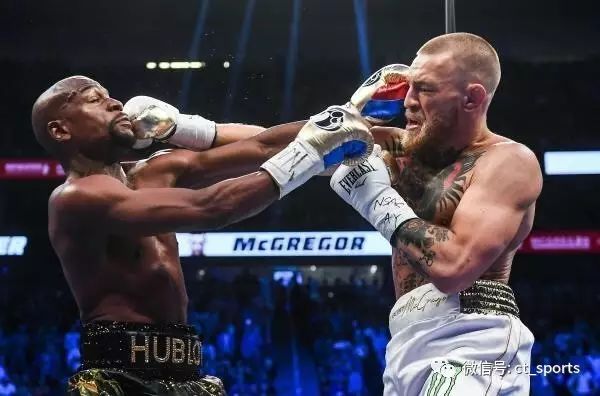 Jesse: This fight had so many obstacles that it seemed crazy to think it would ever happen. The UFC, notoriously stingy with outsourcing its fighters, had to grant McGregor a release to compete in another sport, co-promoted by another organization. Mayweather, who had a less-than-sunny relationship with Dana White and the UFC, had to come out of retirement and agree to work with a largely unpredictable fighter. But then it happened and, surprisingly, it wasn't that awful of a fight. Go figure.
Eric: Wow. It actually happened. This fight was so huge that you couldn't escape its obscene gravitational pull. This was the fight that your grandma called you to ask you about. This was the fight you would hear checkers arguing about at the grocery store. Honestly, I'm glad we're on the other side of the hype hurricane.
Honorable mention: The return of Georges St-Pierre, Jon Jones gets stripped of his title (again), Warlord Ramzan Kadyrov use of MMA (and other sports) to control (and oppress) Chechnya.
The following two tabs change content below.
Jesse Scheckner, founder and editor-in-chief of FootandFist.com, is a culture, business, political and mixed martial arts journalist. He is the former editor-in-chief of TuffGnarl.com, which Miami New Times named "Best Music Blog" in 2015. That year he also won the Florida MMA Award for "Best MMA Media Correspondent" for his work at MMAOwl.com, which won "Best MMA Website." His work has appeared in the Miami Herald, Broward Palm Beach New Times, Miami's Community Newspapers, Florida Geek Scene, MMA Sucka, MMA-Insider and MMA Junkie. An occasional broadcast guest on 560 WQAM's "Fight Night with Alex Donno" and Lopez Radio, he lives in Kendall with his wife and cat.
Latest posts by Jesse Scheckner (see all)